Volley Formation




Type

Utility

Max Rank

5
Class
Tactician
Range
0

---

3 M

20/18/16/14/12 FP

Power
--
Target
Left, Right, and Center
Ally Only
Range Bonus
+1/2/3/4/5
Critical Bonus
+5/10/15/20/25
Max Bonus (3 allies; Range is NOT increased):
+15/30/45/60/75
At Rank 5:
If you have a Tome equipped, the duration of the Formation is increased by 1.

Formation skill. You create a formation on the map that is shown as glowing tiles for 3 Rounds. Allies who stand in the formation gain Range and Critical when using range weapons. The Critical bonus is increased if more allies stand inside the formation. When a new round starts, if all spaces of the formation have allies inside of it, your Tactics Rank increases by one. (Only one Formation can be active at a time.).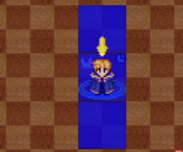 Tactician Skills
Offensive
Assault Order, Attack Formation, Fire Whip, Frigid Formation, Titan Gale, White Prison, Dark Eye, Splash, Domino Resonate, Sacred Prism, Acid Rain, Pinpoint Electro
Defensive
Guard Order, Bunker Formation
Support
Analyze Weakness, Cast Order, Arcane Formation, Field Medic
Utility
Charge Order, Enemy Evaluation, Volley Formation
Passive
On My Mark, Dualpower
Innate
Performance Rating, Always Learning, Timely Withdraw, According To Plan